What Can Taxpayer Rely – Authority?
What Can Taxpayer Rely – Authority?
We have a 1,800-word detailed article here.
IRS says
The purpose of this memorandum is to issue guidance to remind examiners that frequently asked questions (FAQs) and other items posted on IRS.gov that have not been published in the Internal Revenue Bulletin are not legal authority. The FAQs and other items should not be used to sustain a position unless the items (e.g., FAQs) explicitly indicate otherwise or the IRS indicates otherwise by press release or by notice or announcement published in the Bulletin
California Franchise Tax Board says
On October 12, 2009, we issued two FTB Notices, 2009-08, Franchise Tax Board Ruling Guidelines, and 2009-09, Reliance upon Written Advice – Relief under Taxpayers' Bill of Rights. These notices were issued to update communications on guidelines relating to the issuance of written advice by us and reliance upon that written advice under the Taxpayers' Bill of Rights.
California Dept. fo Tax and Fee Administration says
The California Board of Equalization ["BOE"] and California Dept. of Tax and Fee Administration ["CDTFA"]  says [In Article 18, Section 1705]
(a) IN GENERAL. A person may be relieved from the liability for the payment of sales and use taxes, including any penalties and interest added to those taxes, when that liability resulted from the failure to make a timely return or a payment and such failure was found by the Board to be due to reasonable reliance on:

(1) The written advice was given by the Board under the conditions set forth in subdivision (b) below, or

(2) The written advice in the form of an annotation or legal ruling of counsel under the conditions set forth in subdivision (d) below; or

(3) The written advice was given by the Board in a prior audit under the conditions set forth in subdivision (c) below. As used in this regulation, the term "prior audit" means any audit conducted prior to the current examination where the issue in question was examined.

Written advice from the Board may only be relied upon by the person to whom it was originally issued or a legal or statutory successor to that person. Written advice from the Board which was received during a prior audit of the person under the conditions set forth in subdivision (c) below, may be relied upon by the person audited or a person with shared accounting and common ownership with the audited person or by a legal or statutory successor to those persons.
What authority medical sales tax exemption?
Medical Sales Tax Exemption
The medical sales tax exemption –  November 8, 2016, the passage of Proposition 64 (The Control, Regulate and Tax Adult Use of Marijuana Act) exempts certain sales of medical marijuana from sales and use tax.
Sales of medical cannabis to those who have a medical marijuana identification card (MMIC) issued on a county-by-county basis by the California Department of Public Health (CDPH) and a valid government-issued identification card are now exempt from sales and use tax. Consumers can obtain the CDPH-issued cards at their county health department, at a cost that varies by county. A paper recommendation from a physician is not sufficient to qualify for this sales tax exemption.
This county-issued MMIC will have the State of California seal and indicate whether the cardholder is a "patient" or "caregiver." The card will also contain the patient's or primary caregiver's photo, a nine-digit ID number, a CDPH website to verify the ID number, an expiration date, and the county that issued the card, as shown below. Cards are valid for the duration of the physician recommendation or up to one year, at which time the card must be renewed. Retailers should retain the purchaser's nine-digit ID number and expiration date, along with the related sales invoice or other records of sale, to support the exempt sale.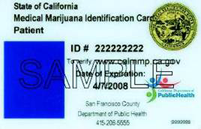 Exempted products include medical cannabis, medical cannabis concentrate, edible medical cannabis products, and topical cannabis. These terms are defined in Business and Professions Code section 19300.5.
Retailers should not collect sales tax reimbursement on qualifying exempt sales of medical marijuana. They should claim a deduction on their sales and use tax returns for their qualifying exempt medical marijuana sales. Retailers may verify the validity of a nine-digit ID number on the CDPH website
Sales of recreational marijuana will not start until January 1, 2018. Such sales will be subject to sales tax and an excise tax. A cultivator tax will also apply to marijuana beginning on that date.
What is the procedure for cash payments to CDTFA
Procedure For CDTFA Cash Payments
The California Department of Tax and Fee Administration (CDTFA) has updated its procedure for CDTFA cash payments. The procedure requires that all cash payments be made by appointment
only at designated offices. You must call your local office for an appointment to make your payment at least 3 business days in advance. You will be given the date, time and location to transact your payment. If you do not have an appointment, your payment will not be accepted.
If you will be making a payment for an amount greater than $20,000, you must follow the additional instructions provided below.
Payments of Over $20,000
In addition to scheduling an appointment with the CDTFA to make your payment, you must do all of the following:
1. The payment must be placed in a clear, tamper-resistant, bank-deposit-type payment bag that is not larger than 9" x 12". Do not overstuff the bag. Use more than one bag if your payment does not fit in one. Please contact your local office if you have any questions or need to see a sample bag. Bags may be purchased at office supply stores or online.
2. Complete CDTFA-705, Currency Deposit, and include a copy inside of the payment bag. If your payment requires multiple bags, a payment voucher must be included in each bag.
3. Cash should be sorted by denomination and all bills should face the same direction. Any mutilated, contaminated, worn, or counterfeit currency will not be accepted. The currency counter will be unable to read these notes. You will be contacted for bills that cannot be counted and they will be returned. Bills that are found to be counterfeit will not be returned.
4. Each payment bag must include the account name and account number on the outside of the deposit bag.
If making payment to multiple accounts, a separate bag must be used for each account. When making a payment in person, cash must be enclosed in a sealed bag before entering our lobby.
When you present a cash deposit bag to transact at a CDTFA office, you will receive a conditional receipt which states the amount you listed on the deposit voucher. The payment will be counted at a later time for verification.
You will be contacted if a discrepancy is found during the verification process. Your account will only be credited for the amount that has been verified and accepted by the CDTFA. See CDTFA Notice 245-CPI
How does a Cannabis Seller Register for Sales Tax with CDFTA?
Seller Registration – Sales Tax with CDFTA
Cannabis Tax Permits/Seller's Permits: Cannabis retailers, cultivators, manufacturers, and distributors making sales must register with the CDTFA for a seller's permit. Distributors must register with the CDTFA for a cannabis tax permit to report and pay the cultivation tax and cannabis excise tax. A microbusiness licensee is licensed to act as a distributor, among other things, and must comply with all the same requirements as a distributor. If you make sales for resale, you must obtain a valid resale certificate.
Sales and use tax permit registration are available online. Beginning November 20, 2017, you can register for all the proper tax permits for your cannabis business on our website at www.cdtfa.ca.gov (click the Register link, and follow the prompt). When registering your business activity, make sure to select box number 3, Cannabis business activities.
More information about the permits necessary to collect these new taxes is available in this special notice and in theTax Guide for Cannabis Businesses. If you have additional questions, you may call our
A complete copy of the Formal Paper on Sales Tax for Cannabis and Regulation 3700 can be found here. 
Background
In 2015, the Legislature enacted the Medical Marijuana Regulation and Safety Act (MMRSA), a package of legislation that established a comprehensive licensing and regulatory framework for the cultivation, manufacturing, transportation, distribution, and sale of medical marijuana. The MMRSA consists of three bills: SB 643 (Ch. 719, McGuire), AB 243 (Ch. 688, Wood), and AB 266 (Ch. 689, Bonta).
Among its provisions, the MMRSA established the Bureau of Medical Marijuana Regulation2 2 (Bureau) within the Department of Consumer Affairs to oversee and enforce the state's medical marijuana regulations, in collaboration with the California Department of Public Health (CDPH) and the California Department of Food and Agriculture (CDFA).
On November 8, 2016, California voters approved Proposition 64 which established the Control, Regulate and Tax Adult Use of Marijuana Act (the Adult Use of Marijuana Act) (AUMA). Among other things, AUMA added Division 10 (commencing with Section 26000) to the Business and Professions Code (BPC), Marijuana Regulation and Safety (MRS), which establishes nonmedical marijuana regulatory and licensing provisions, and added Part 14.5, Marijuana Tax, to Division 2 of the Revenue and Taxation Code (RTC) (commencing with RTC section 34010).
In 2017, SB 94 repealed the MCRSA, included certain provisions from MCRSA into MRS, now known as the Medicinal and Adult-Use Cannabis Regulation and Safety Act (MAUCRSA), and made further amendments to AUMA. Concerning taxes, SB 94, section 162, amended Part 14.5 to ease and streamline cannabis tax collection and remittance to the Department. As relevant here, SB 94: (1) changes the law throughout to be the Cannabis Tax Law instead of Marijuana Tax Law; (2) revises the cannabis excise tax to be imposed upon purchasers at a rate of 15 percent of the average market price, instead of retail selling price, to be collected by a distributor from a cannabis retailer; (3) requires a distributor or a manufacturer to collect the cultivation tax from a cultivator, and a manufacturer to remit any cultivation tax collected from a cultivator to a distributor, for distributor remittance of those taxes to the Department; and (4) makes other corrections and other conforming changes.
The CTL was further amended by AB 133 in 2017 to, in part: remove the requirement that a cannabis retailer display the cannabis excise tax separately from the price of cannabis and cannabis products when sold to consumers; remove the requirement that a cannabis retailer state on the purchase invoice that the cannabis cultivation tax is included in the total amount of the invoice; and authorize the Department to prescribe other means to display the cannabis excise tax on an invoice, receipt, or other document from a cannabis retailer given to the purchaser. AB 133 also defines manufacturer and authorizes the Department to relieve a person of the penalty for failure to pay the cannabis cultivation and excise tax if the Department finds that the person's failure to make a timely payment is due to reasonable cause and circumstances beyond the person's control, and occurred notwithstanding the exercise of ordinary care and the absence of willful neglect
For reference, the staff has included the text of the underlying statutes (RTC sections 34010, 34011, 34012, and 34013) which are the basis for the proposed regulation (Exhibit 3).