Federal – California FAQs
What Can Taxpayer Rely – Authority?
What Can Taxpayer Rely – Authority?
We have a 1,800-word detailed article here.
IRS says
The purpose of this memorandum is to issue guidance to remind examiners that frequently asked questions (FAQs) and other items posted on IRS.gov that have not been published in the Internal Revenue Bulletin are not legal authority. The FAQs and other items should not be used to sustain a position unless the items (e.g., FAQs) explicitly indicate otherwise or the IRS indicates otherwise by press release or by notice or announcement published in the Bulletin
California Franchise Tax Board says
On October 12, 2009, we issued two FTB Notices, 2009-08, Franchise Tax Board Ruling Guidelines, and 2009-09, Reliance upon Written Advice – Relief under Taxpayers' Bill of Rights. These notices were issued to update communications on guidelines relating to the issuance of written advice by us and reliance upon that written advice under the Taxpayers' Bill of Rights.
California Dept. fo Tax and Fee Administration says
The California Board of Equalization ["BOE"] and California Dept. of Tax and Fee Administration ["CDTFA"]  says [In Article 18, Section 1705]
(a) IN GENERAL. A person may be relieved from the liability for the payment of sales and use taxes, including any penalties and interest added to those taxes, when that liability resulted from the failure to make a timely return or a payment and such failure was found by the Board to be due to reasonable reliance on:

(1) The written advice was given by the Board under the conditions set forth in subdivision (b) below, or

(2) The written advice in the form of an annotation or legal ruling of counsel under the conditions set forth in subdivision (d) below; or

(3) The written advice was given by the Board in a prior audit under the conditions set forth in subdivision (c) below. As used in this regulation, the term "prior audit" means any audit conducted prior to the current examination where the issue in question was examined.

Written advice from the Board may only be relied upon by the person to whom it was originally issued or a legal or statutory successor to that person. Written advice from the Board which was received during a prior audit of the person under the conditions set forth in subdivision (c) below, may be relied upon by the person audited or a person with shared accounting and common ownership with the audited person or by a legal or statutory successor to those persons.
Must IRS Accept US Currency – Cash?
Must IRS Accept US Currency – Cash?
Must IRS Accept US Currency – Cash?
The very simple answer is YES the IRS must accept US currency in payment of tax obligations.
The United States Code provides that
"United States coins and currency (including Federal reserve notes and circulating notes of Federal reserve banks and national banks) are legal tender for all debts, public charges, taxes, and dues. Foreign gold or silver coins are not legal tender for debts." 31 U.S.C. § 5103. Thus, it seems clear that the IRS is required to accept U.S. coins and currency for the payment of taxes. The Department of Treasury's website also includes a frequently asked question regarding the requirement of accepting cash as legal tender for a debt. The response clarifies that a private party (i.e., a non-government entity) is not required to accept cash payments.
See https://www.ustreas.govJeducationJfag/currency/legal-tender.shtml. While the U.S. government is required to accept cash in payment of taxes or other debts. there is no statute or regulation requiring the United States to accept cash payments at each and every location that accepts payments. The Service has approximately 400 Taxpayer Assistance Centers (TACs). Taxpayers are able to make payments at each of the TACs.
As a security measure, the Service has implemented specific procedures to be followed when a taxpayer makes cash payment at one of the TACs. This procedure intentionally involves more than one employee.
First, a taxpayer desiring to make a cash payment must provide exact change.
Second, this taxpayer must be provided a receipt for the payment. The taxpayer is given Part 2 of Form 809 as a receipt for the cash payment See IRM 21.3.4.7.2.1. The employee who is authorized to receive the payment and to issue the Form S09 receipt is not authorized to make any adjustments to the taxpayer's account on IDRS. See IRM 21.3.4.7.2(4).
This limitation precludes an employee from accepting a cash payment, adjusting the taxpayer's account to reflect the payment, and then converting the cash payment to the employee's personal use. The mandatory separation of duties protects the employee, taxpayers and the IRS.
In those locations where there are a very limited number of employees, is not feasible to accept cash payments. Minimal staffing at a location generally necessitates having employees with more than limited authorities. Having an employee with limited IDRS access in a TAC of this size severely restricts the services that can be provided to other taxpayers at that location. Therefore, it seems reasonable that the Service accept cash payments only at the TACs with greater staffing.
The IRM incorporates this reasoning and authorizes the Director, Field Assistance or the Area Director to grant a deviation from accepting cash payments to TACs with fewer than three employees.
The exception provided for cash payments at small TACs is reasonable, but care needs to be taken to ensure that the exception does not become the rule. That is, the Service cannot eliminate its obligation to accept cash for the payment of taxes by staffing the TACs so that no centers have sufficient personnel to accept cash payments.

Must IRS Accept US Currency – Cash?
How do I pay my taxes?
How does the DEA's DCD operate
How does the DEA's DCD operate
The reality of the situation is that assuming that the long-term scenario is that cannabis is going to come off of Schedule I and that there will ultimately be inter-state transactions involving cannabis that even if the individual states were to maintain vast different laws governing cannabis within their borders, the issuance of licenses is going to have to come from a single source. Two examples of this would be the IRS's issuance of Taxpayer Identification Numbers which are centrally issued but used by the entire United States or a more specialized issuer such as the current Drug Enforcement Administration ["DEA"]. The DEA's functions in addition to the commonly perceived law enforcement role include the functionality of its predecessor which was referred to as the Bureau of Narcotics and Dangerous Drugs "BNDD". The functionality of the BNDD currently resides within the DEA's Diversion Control Division ["DCD"].
The DCD coordinates the gathering of documents an matching of state licenses for practitioners [including MD, DO, DDS, DMD, DVM, DPM], mid-level practitioners [including NP, PA, OD, etc], pharmacists and all allied business entities as a single "choke point". DCD is the sole logical issuer of choice to take over Cannabis licensing and it is responsible for every single other controlled substance in the United States.
Obviously, either DEA is going to have to remove cannabis from Schedule I or Congress is going to have to take the step before that kind of a change takes place. There is no practical state level option to accomplish the same task. The choice of DCD would also address the single issuer concerns with private blockchain.
Application for Registration Under Controlled Substances Act of 1970
(New Applicants Only)

What authority medical sales tax exemption?
Medical Sales Tax Exemption
The medical sales tax exemption –  November 8, 2016, the passage of Proposition 64 (The Control, Regulate and Tax Adult Use of Marijuana Act) exempts certain sales of medical marijuana from sales and use tax.
Sales of medical cannabis to those who have a medical marijuana identification card (MMIC) issued on a county-by-county basis by the California Department of Public Health (CDPH) and a valid government-issued identification card are now exempt from sales and use tax. Consumers can obtain the CDPH-issued cards at their county health department, at a cost that varies by county. A paper recommendation from a physician is not sufficient to qualify for this sales tax exemption.
This county-issued MMIC will have the State of California seal and indicate whether the cardholder is a "patient" or "caregiver." The card will also contain the patient's or primary caregiver's photo, a nine-digit ID number, a CDPH website to verify the ID number, an expiration date, and the county that issued the card, as shown below. Cards are valid for the duration of the physician recommendation or up to one year, at which time the card must be renewed. Retailers should retain the purchaser's nine-digit ID number and expiration date, along with the related sales invoice or other records of sale, to support the exempt sale.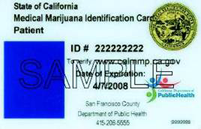 Exempted products include medical cannabis, medical cannabis concentrate, edible medical cannabis products, and topical cannabis. These terms are defined in Business and Professions Code section 19300.5.
Retailers should not collect sales tax reimbursement on qualifying exempt sales of medical marijuana. They should claim a deduction on their sales and use tax returns for their qualifying exempt medical marijuana sales. Retailers may verify the validity of a nine-digit ID number on the CDPH website
Sales of recreational marijuana will not start until January 1, 2018. Such sales will be subject to sales tax and an excise tax. A cultivator tax will also apply to marijuana beginning on that date.
What is the procedure for cash payments to CDTFA
Procedure For CDTFA Cash Payments
The California Department of Tax and Fee Administration (CDTFA) has updated its procedure for CDTFA cash payments. The procedure requires that all cash payments be made by appointment
only at designated offices. You must call your local office for an appointment to make your payment at least 3 business days in advance. You will be given the date, time and location to transact your payment. If you do not have an appointment, your payment will not be accepted.
If you will be making a payment for an amount greater than $20,000, you must follow the additional instructions provided below.
Payments of Over $20,000
In addition to scheduling an appointment with the CDTFA to make your payment, you must do all of the following:
1. The payment must be placed in a clear, tamper-resistant, bank-deposit-type payment bag that is not larger than 9" x 12". Do not overstuff the bag. Use more than one bag if your payment does not fit in one. Please contact your local office if you have any questions or need to see a sample bag. Bags may be purchased at office supply stores or online.
2. Complete CDTFA-705, Currency Deposit, and include a copy inside of the payment bag. If your payment requires multiple bags, a payment voucher must be included in each bag.
3. Cash should be sorted by denomination and all bills should face the same direction. Any mutilated, contaminated, worn, or counterfeit currency will not be accepted. The currency counter will be unable to read these notes. You will be contacted for bills that cannot be counted and they will be returned. Bills that are found to be counterfeit will not be returned.
4. Each payment bag must include the account name and account number on the outside of the deposit bag.
If making payment to multiple accounts, a separate bag must be used for each account. When making a payment in person, cash must be enclosed in a sealed bag before entering our lobby.
When you present a cash deposit bag to transact at a CDTFA office, you will receive a conditional receipt which states the amount you listed on the deposit voucher. The payment will be counted at a later time for verification.
You will be contacted if a discrepancy is found during the verification process. Your account will only be credited for the amount that has been verified and accepted by the CDTFA. See CDTFA Notice 245-CPI
How is withholding calc Bonus Sup. Pay?
Bonus, Commission, Supplemental Payments – Withholding
Bonus & Commission payments are considered by the IRS as "supplemental wages".  Meaning they are supplements to an employees regular wages.  The IRS says this about supplemental wages,
"They include, but are not limited to, bonuses, commissions, overtime pay, payments for accumulated sick leave, severance pay, awards, prizes, back pay, retroactive pay increases, and payments for nondeductible moving expenses. Other payments subject to the supplemental wage rules include taxable fringe benefits and expense allowances paid under a nonaccountable plan."
How Taxes are Calculated – Bonuses or  Supplemental Wages
How they are taxed largely depends on how they are paid; if you pay a bonus on a single check along with an employee's other regular wages then you can allow the standard payroll tax tables which are driven by an employees W4 election to dictate the withholding.  However, if you separate the supplemental wage payment out from the employee's regular wages then the IRS says to withhold Federal income taxes at a rate of 25%.  Therefore, if you pay someone a $5,000 bonus you would withhold $1250.00 for Federal income tax alone.  In addition, you would still be required to withhold State/local income taxes (Colorado at 4.63%), Social Security at 6.2% and Medicare at 1.45% (for YTD wages below $118K annually).
Why is this? At this point, we can only theorize as I've never seen anything from the IRS detailing the rationale for this rate.  My assumption has always been that the tax rule is designed to ensure sufficient withholding is taken out of supplemental payments so that employees don't have a tax surprise on their hands the following April.  The impact for many employees of this supplemental tax rate can be an over funding of their personal income taxes which leads to a tax refund personally.  For an employer, there is zero impact from an expense standpoint.  An employer should NOT deviate from the IRS tax guidance on supplemental wages and should choose one of the two common options for taxing.
Net Bonus Amounts
When an employer wishes to give an employee after-tax net bonus things get complicated.  Since the IRS supplemental tax rate is 25% and can lead to an employee's earning being over-withheld for the year; we advise employers to shy away from Net bonuses and instead settle on a gross amount for the bonus.  If you wish to give an employee a $1,000 net bonus, using the supplemental rate you would need to pay a gross bonus of $1594.39 (25% fed, 4.63% state, 6.2% social security, 1.45% Medicare).  That's 37.28% you as an employer would be covering in addition to the net bonus payment and not including another 7.65% or more in employer taxes.  Frustrating? Yes, in particular, if you know your employee is in a relatively low or middle-class personal tax bracket and may have various dependents and other tax breaks personally.  But remember you do not want to give your employees personal tax advice.  At some point you the employer must settle on a gross amount for the bonus and determine if the payment should be combined with the employee's salary/hourly wages or tax using the flat rate percentages.  Either way, the employee is being rewarded with a bonus make sure you discuss with them the gross amount as that is their true reward not the net result after taxes.
Supplemental Wages Combined with Regular Wages
If you pay supplemental wages with regular wages but do not specify the amount of each, withhold federal income tax as if the total were a single payment for a regular payroll period.
Supplemental Wages Identified Separately from Regular Wages
If you pay supplemental wages separately (or combine them in a single payment and specify the amount of each), the federal income tax withholding method depends partly on whether you withhold income tax from your employee's regular wages
1. If you withheld income tax from an employee's regular wages in the current or immediately preceding calendar year, you can use one of the following methods for the supplemental wages
a. Withhold a flat 25% (no other percentage allowed).
b. If the supplemental wages are paid concurrently with regular wages, add the supplemental wages to the concurrently paid regular wages. If there are no concurrently paid regular wages, add the supplemental wages to alternatively, either the regular wages paid or to be paid for the current payroll period or the regular wages paid for the preceding payroll period. Figure the income tax withholding as if the total of the regular wages and supplemental wages is a single payment. Subtract the tax withheld from the regular wages. Withhold the remaining tax from the supplemental wages. If there were other payments of supplemental wages paid during the payroll period made before the current payment of supplemental wages, aggregate all the payments of supplemental wages paid during the payroll period with the regular wages paid during the payroll period, calculate the tax on the total, subtract the tax already withheld from the regular wages and the previous supplemental wage payments, and withhold the remaining tax.
2. If you did not withhold income tax from the employee's regular wages in the current or immediately preceding calendar year, use method 1-b. This would occur, for example, when the value of the employee's withholding allowances claimed on Form W-4 is more than the wages.
Regardless of the method you use to withhold income tax on supplemental wages, they are subject to social security, Medicare, and FUTA taxes."
What is the History of the CHAMPS litigation on IRC Sec. 280E ?
CHAMPS Litigation on IRC Sec. 280E (The 'Two Business" rule)
The CHAMPS Litigation on IRC Sec. 280E use of IRC 263A alone to increase Cost Of Goods Sold may still leave the legal marijuana business with a punitive effective tax rate after application or IRC §280E. Absent any regulations to guide the practitioner, we look to relevant U.S. Tax Court cases for guidance. It is well established that a taxpayer can have more than one trade or business36. In Californians Helping to Alleviate Med. Problems, Inc. v. Commissioner (CHAMPS)37. the Tax Court expanded IRC §280E to permit the deduction of ordinary and necessary expenses to the extent two businesses are conducted at the same business location.
Some states, including California, operate using a caregiver model. It is important to understand the differences in this business model. Some dispensaries in this model offer palliative care,
which is specialized medical care for people with serious illnesses. It focuses on providing patients with relief from the systems and stress of a serious illness. The goal is improving the quality of life for both the patient and the family. CHAMPS was in the business of providing counseling and other caregiving services to its members, who were individuals with debilitating diseases.
Under the California Compassionate Use Act of 1996, the taxpayer provided marijuana to members who requested it. The business charged its members a membership fee that generally reimbursed the business for its costs of the caregiving services and its costs of the medical marijuana. This left the business substantially in compliance with California law, since in the caregiver model the caregiver is reimbursed for costs, but should not generate a profit on an ongoing basis. At audit, the Service disallowed the expenses as non-deductible under IRC §280E because they were incurred in connection with the trafficking of a controlled substance under the federal CSA.
47% of the of the CHAMPS members suffered from AIDS, while the remainder suffered from cancer, multiple sclerosis or other terminal or chronic diseases. The primary purpose the entity was to provide caregiving services to its members. The secondary purpose was to provide members with medical marijuana pursuant to the provisions of California law and instruction in the use of the marijuana to benefit their health. The most important aspect of this case is that the palliative care services provided by CHAMPS were extensive. Support group sessions were held for members including those with AIDS, addiction, and emotional development problems.
Low-income members were provided with hearty daily lunches and hygiene supplies were also available. Counseling benefits related to life-coping issues were available. In short, CHAMPS was a palliative care entity that happened to dispense marijuana, rather than simply a marijuana dispenser.
On its tax return, CHAMPS did not make any allocation subject to IRC §280E. All ordinary and necessary business expenses were deducted. At trial, CHAMPS argued they had two businesses: a primary trade or business of palliative care (caregiving) and a secondary trade or business as a marijuana dispenser. CHAMPS argued and the Court agreed, that the deductions for the non-trafficking business should not be subject to IRC §280E. The Service accepts the characterization that two or more undertakings are separate activities unless the characterization is 'artificial or unreasonable". Section 280E and its legislative history express a congressional intent to disallow deductions attributable to a trade or business of trafficking in controlled substances. They do not express intent to deny the deduction of all of a taxpayer's business expenses simply because the taxpayer was involved in trafficking in a controlled substance.
We hold that section 280E does not preclude petitioner from deducting expenses attributable to a trade or business other than that of illegal trafficking in controlled substances simply because petitioner also is involved in the trafficking in a controlled substance. It is important to note that CHAMPS had contemporaneously created records which clearly showed the costs spent on each activity, including detailed time records of employees' time spent in each of the two businesses.
Absent §280E regulations pertaining to two distinct businesses operating from the same location, we look to the guidance under IRC §183 and the supporting regulations. Reg. §1.183–1(d)(1) provides that "(t)the taxpayer's characterization will not be accepted, however, when it appears that his characterization is artificial and cannot be reasonably supported by the facts and circumstances of the case."
Most significant facts and circumstances in making this determination are:
 The degree of the organizational and economic interrelationship of various undertakings.
The business purpose which is (or might be) served by carrying on the various undertakings separately or together in a trade or business or in an investment setting.
 The similarity of various undertakings.
The Tax Court later expanded facts and circumstances test in Rupp v. Commissioner, which provides nine factors for use in determining whether the two undertakings share a close relationship to one another:
Whether the undertakings are conducted at the same place;
Whether the undertakings were part of a taxpayer's efforts to find sources of revenue from his or her land;
Whether the undertakings were formed as separate activities;
Whether one undertaking benefited from the other;
Whether the taxpayer used one undertaking to advertise the other;
The degree to which the undertakings shared management;
The degree to which one caretaker oversaw the assets of both undertakings;
Whether the taxpayers used the same accountant for the undertakings
The degree to which the undertakings shared books and records.
The Tax Court subsequently applied the nine factors of Rupp in Olive v. Commissioner 139 T.C.No 2..  While not cannabis industry-friendly, Olive helped further frame the outer limitations of the 'two business rule'. Olive operated "The Vapor Room", purportedly a medical marijuana dispensary and a caregiving activity. The Court found that the taxpayer was not operating two businesses and was therefore not entitled to a portion of its IRC 61 ordinary and necessary business expenses.
Some of Olive's patrons suffered from AIDS, HIV, cancer and other terminal diseases. Taxpayer felt CHAMP applied here. The court applied the nine factors from Rupp and found that the taxpayer operated only one business. Contrary to CHAMPS, where the Court found two businesses existed, in Olive the Court determined that there was one activity, trafficking in a controlled substance.
How Do IRC Sec. 263A UNICAP Rules Apply To CA Cannabis?
IRC Sec. 263A UNICAP Rules Apply To CA Cannabis
IRC Sec. 263A UNICAP Rules Apply To CA Cannabis. The rules require more indirect costs to be allocated to inventory than the full absorption rules under IRC §471. The UNICAP rules require a producer of inventory to include in the cost of its inventory the direct costs of such property and such property's proper share of those indirect costs, part or all of which is allocable to such property.  Under UNICAP, direct costs include direct material costs and direct labor costs. UNICAP is required for most manufacturers and resellers with the exception of businesses with less than $10 million in gross receipts on a three-year rolling average basis.
Most cannabis businesses that do not produce products will not be required to comply with UNICAP. A reseller which is not subject to the UNICAP rules is usually required to include only direct costs in the cost of its inventory.28 A marijuana business would be well advised to comply with the UNICAP rules, whether or not it is required to do so. First, this would allow it to maximize the costs allocated to cost of goods sold. Potentially, it could minimize the number of disallowed business expenses.
Nothing in the code or regulations states taxpayers cannot voluntarily follow the UNICAP rules. For growers of marijuana, not all expenses will be allowed as the cost of goods sold, but many wills. Examples include rent, electricity, water, nutrients, security, insurance, scales, grinders, packaging materials, delivery vans, labor, excise taxes, accounting software, and traceability software.
Generally speaking, a state-licensed marijuana retailer is 'trafficking' in the sale of marijuana in violation of the federal CSA and will NOT be allowed a deduction for ordinary and necessary business expenses. The solely written guidance from the IRS comes in the form of a Chief Counsel's Advice (CCA).  This CCA addresses two questions:
First, how is a cost of goods sold determined for a taxpayer subject to IRC §280E? Taxpayers should calculate Cost of goods sold "using the applicable inventory-costing regulations under §471 as they existed when §280E was enacted.

30 

Therefore, Reg. §1.471-3(b) for resellers, and Regs. §1.471-3(c) and 1.471-11 for producers are applicable for computing COGS.
Second, may the IRS require the taxpayer to use an inventory method for the controlled substance? "Yes, unless the taxpayer is properly using a non-inventory method to account for the…controlled substance pursuant to the Code, Regulations, or other published guidance." It is interesting to note that the author is aware of no other circumstances where an interpretation of a law is restricted to other laws in effect at that time of passage.
What is Cost Goods Sold ["COGS"], how is it calculated?
Cannabis Cost Goods Sold Calculations
Cannabis Cost Goods Sold Calculations is not a deduction but actually, an adjustment is taken into account in arriving at gross income. Regulation §1.61-3(a) provides, "gross income" means "…the total sales, less the cost of goods sold." Although IRC §280E disallows any deduction for a marijuana seller's ordinary and necessary business expenses, the legislative history fails to include the cost of goods sold in this rule. The literature suggests that Constitutional concerns of the Sixteenth Amendment, which taxes 'incomes', are the reason for this exclusion.
In the Senate hearings prior to passing IRC §280E, discussion suggested including the cost of goods sold in the 'disallowed' expenses for drug traffickers. However, the feeling that this could create a constitutional issue leading to court challenges (and delays) prevailed, and cost of goods sold remained an available adjustment to drug traffickers.
Although the Service has not issued regulations related to IRC §280E, the Service allows the adjustment for Cost of Goods Sold (COGS) on the tax returns of businesses engaged in drug trafficking. On November 24, 2010, U.S. Representatives Fortney Pete Stark, Barney Frank, Jared Polis, Linda Sanchez, Raul Grijalva, and Sam Farr wrote to the office of the Chief Counsel of the IRS, asking the service to create guidance for regulations related to deductions for state-licensed marijuana businesses.
The Chief Counsel's Office replied to the Congressman on December 16, 2010, stating that the IRS is unable to issue regulations for IRC §280E since neither the Controlled Substances Act nor IRC §280E makes the exception for medical marijuana. Further, the Chief Counsel places blame on Congress to change either IRC §280E or the Controlled Substances Act.
Cost Method for Cost of Goods Sold
A business must use an inventory method of accounting whenever "the production, purchase or sale of goods is an income-producing factor. Under an inventory method, costs related to producing, acquiring, storing, and handling goods are not currently deductible. These costs must be included in the costs of inventory and deducted when inventory is sold. In the typical business, tax professionals look to minimize current income by taking deductions during the current period. IRC §263A does not magically transform otherwise disallowed costs under IRC §280E into allowed capitalized costs, although the tax professional should look to maximize the number of deductions which can be justifiably capitalized. Much billable work exists for tax and accounting professionals who possess the skills to wade through client inventory records and classify expenses to maximize the cost of goods sold deduction and support the conclusions at an examination.
Generally, the current year inventory costs are added to the beginning of the year inventory amount and reduced by the costs of inventory on hand at the end of the year to calculate costs of goods sold for the year.
Section 471 and methods required by Section 263A provide that marketing, advertising and selling expenses are "not required" to be treated as inventory costs. Under Reg. §1.471–11, 6(a), taxpayers must include as inventoriable costs all direct (e.g., the cost of inventory and delivery, and the cost of materials and labor for manufactured inventory) and indirect production costs (e.g., rent and utilities related to inventory).
How report cash pmt > $10,000 to IRS?
Report cash payment over $10,000 to IRS
Form 8300 – Is Your Business Filing the Proper Cash Transaction Forms?
Has your business ever received a large cash payment, and you were not quite sure what your reporting obligations were regarding that large payment? The general rule is that you must file Form 8300, Report of Cash Payments Over $10,000 Received in a Trade or Business, if your business receives more than $10,000 in cash from one buyer as a result of a single transaction or two or more related transactions.
The Form 8300 provides valuable information to the Internal Revenue Service and the Financial Crimes Enforcement Network (FinCEN)
in their efforts to combat money laundering. This is an important effort, since money laundering is a tool used to facilitate various criminal activities, ranging from tax evasion to terrorist financing to drug dealing, to hide the proceeds from their illegal activities.
Filing Form 8300
Generally, any person in a trade or business who receives more than $10,000 in cash in a single transaction or in related transactions must file a Form 8300. Persons includes an individual, a company, a corporation, a partnership, an association, a trust, or an estate. Persons must file a Forms 8300 with the IRS if any part of the transaction occurs within any of the 50 states, the District of Columbia, or a U.S. possession or territory (American Samoa, The Commonwealth of the Northern Mariana Islands, Guam, Puerto Rico and the U.S. Virgin Islands).
If you are required to file Form 8300, you must do so by the 15th day after the date the cash transaction occurred. A person can file Forms 8300 electronically or by mailing the form to the IRS at: Detroit Computing Center, P.O. Box 32621, Detroit, Michigan 48232.
In addition to filing Forms 8300 with the IRS, companies need to furnish a written statement to each person whose name is required to be included in the Form 8300 by January 31 of the year following the transaction. This statement must include the name, address, contact person, and telephone number of the business filing Form 8300, the aggregate amount of reportable cash the business was required to report to the IRS from the person receiving the statement, and that the business provided this information to the IRS.
Meeting the proper filing requirement and the requirement to furnish a written statement to each person named on the Form 8300 is very important, because there are potential civil and criminal penalties for failure to file Form 8300. Penalties for violation of the Form 8300 filing and furnishing requirements have been increased by the Trade Preferences Extension Act of 2015. Increased penalties apply to Forms 8300 and related notices requiring filing or furnishing after December 31, 2015. In addition, penalty amounts are now adjusted annually for inflation.
Electronic Filing of Form 8300
On Sept 19, 2012, FinCEN announced that businesses may electronically file their Forms 8300 using the Bank Secrecy Act (BSA) Electronic Filing (E-Filing) System. E-filing is free, and is a quick and secure way for persons to file Forms 8300. Filers will receive an electronic acknowledgment of each submission. For more information about Form 8300 e-filing, see the FinCEN news release.
How file a complaint about a tax pro or return preparer?
File Complaint – Tax Pro Return
If you need to File Complaint – Tax Pro Return
IRS OPR Circular 230 Tax Professional Complaint – is submitted in a letter to OPR.
Internal Revenue Service
Office of Professional Responsibility
SE:OPR – Room 7238/IR
1111 Constitution Avenue NW
Washington, DC 20224
The Internal Revenue Service's ["IRS's"] Office of Professional Responsibility ["OPR"] is the point of contact for Circular 230 tax practitioner professional discipline and regulation.
OPR's organizational structure includes three major segments: Office of the Director, Legal Analysis Branch, and Operations and Management Branch.
OPR is committed to:
Independent, fair and equitable treatment of all tax practitioners consistent with our Title 31 authority and principles of due process.
Rendering fair and independent determinations regarding alleged misconduct in violation of Circular 230, Regulations Governing Practice before the Internal Revenue Service.
Educating/maintaining tax professionals' knowledge of relevant Circular 230 provisions.
Providing guidance and feedback to field/agency sources regarding essential referral criteria for each relevant Circular 230 provision.
Strengthening partnerships with other parts of the IRS and with external practitioner organizations.
Developing procedures that ensure timely case resolution.
Developing policies and regulations that ensure fair and equitable disposition of Circular 230 cases.
Developing and implementing proactive strategies for identifying violations of Circular 230.
OPR maintains a FAQ for Circular 230 Tax Professionals that can be found here.
Treasury Inspector General for Tax Administration ["TIGTA"]     
audits, investigations, and inspections and evaluations protect and promote the fair administration of the Federal tax system and work to ensure that the Internal Revenue Service (IRS) is properly doing its job.
TIGTA reports directly to the Secretary of the Treasury and has oversight and review responsibility that extends to the IRS Office of Chief Counsel, the IRS Oversight Board, and the Taxpayer Advocate Service.
A maintains a highly skilled, proactive, and diverse Inspector General organization dedicated to working in a collaborative environment with key stakeholders to foster and promote fair tax administration.
How much can I contrib. to my SEP plan?
Calculating SEP Contribution Limits
There are rules to consider in calculating SEP contribution limits. The contributions you make to each employee's SEP-IRA each year cannot exceed the lesser of:
25% of compensation, or
$55,000 for 2018 ($54,000 for 2017 and subject to annual cost-of-living adjustments for later years).
These limits apply to contributions you make for your employees to all defined contribution plans, which includes SEPs. Compensation up to $275,000 in 2018 ($270,000 in 2017 and subject to cost-of-living adjustments for later years) of an employee's compensation may be considered. If you're self-employed, use a special calculation to determine contributions for yourself.
Contributions must be made in cash; you cannot contribute property.
If you've contributed more than the annual limits to your SEP plan, find out how to correct this mistake.
---
How much can I contribute if I'm self-employed?
The same limits on contributions made to employees' SEP-IRAs also apply to contributions if you are self-employed. However, special rules apply when figuring the maximum deductible contribution. See Publication 560 for details on determining the contribution amount.
---
Must I contribute the same percentage of salary for all participants?
Most SEPs, including the IRS model Form 5305-SEP, require you to make allocations proportional to your employees' salary/wages. This means that everyone's contribution is the same percentage of salary.
If you haven't made contributions to participants' SEP-IRAs equal to the same percentage of each participant's compensation, find out how you can correct this mistake.
If you are self-employed, base your contribution on net profit – minus one-half of the self-employment tax – minus your SEP contribution. See IRS Publication 560 on determining the contribution amount.
---
If I participate in a SEP plan, can I also make tax-deductible traditional IRA contributions to my SEP-IRA?
If the SEP-IRA permits non-SEP contributions, you can make regular IRA contributions (including IRA catch-up contributions if you are age 50 and older) to your SEP-IRA, up to the maximum annual limit. However, the amount of the regular IRA contribution that you can deduct on your income tax return may be reduced or eliminated due to your participation in the SEP plan.
If you have further questions, you can submit a ticket, or try the IRS SEP page
Do you have a Contact Directory for California FTB?
Contact Directory for California FTB
Tax Practitioners Only
Tax Practitioner Hotline 916.845.7057 or fax your question to 916.845.9300.e-file Help Desk  916.845.0353
Application for Cannabis Business to Make Tax Deposits in Cash
No Cash Policy Exemption Request
Electronic communication and data transmission
Secure Email Service

Secure email is an efficient, secure, and easy method for FTB to communicate confidential information with our customers, without having to install software on the recipient's computer. Secure email encrypts the data sent to our customers because regular email fails to meet FTB security standards to email confidential data. Secure email must be initiated by an FTB employee sending a secure email message to the recipient. First time recipients will be prompted to register. Returning customers only need to enter their passwords to view secure email messages.  If a customer responds to a secure email message, the response is also encrypted.
This is the Franchise Tax Board's preferred secure file transfer system. SWIFT provides an alternate secure method for transferring large files to and retrieving files from FTB. It is designed to meet the file transfer needs of government agencies and external business customers
FTB Practices & Procedures
California Office of Tax Appeals
Beginning January 1, 2018, the new Office of Tax Appeals (OTA) will hear and determine all appeals that involve corporate income tax, corporate franchise tax, personal income tax, sales tax, and use tax. If a taxpayer disagrees with us or the California Department of Tax and Fee Administration (CDTFA) on a Notice of Action or a Notice of Determination, the taxpayer may appeal with the new OTA by the "appeal date" listed on the notice. As of October 1, 2017, we include an insert in all notices containing information about appeal rights and OTA's contact information. As of October 1, all appeals need to be filed with OTA, and beginning January 1, 2018, OTA's three-member panels will hear and determine all appeals. The OTA may be contacted through email at [email protected] or mail:
STATE OF CALIFORNIA
OFFICE OF TAX APPEALS
P.O. BOX 98880
WEST SACRAMENTO, CA. 95798-9880
How does a Cannabis Seller Register for Sales Tax with CDFTA?
Seller Registration – Sales Tax with CDFTA
Cannabis Tax Permits/Seller's Permits: Cannabis retailers, cultivators, manufacturers, and distributors making sales must register with the CDTFA for a seller's permit. Distributors must register with the CDTFA for a cannabis tax permit to report and pay the cultivation tax and cannabis excise tax. A microbusiness licensee is licensed to act as a distributor, among other things, and must comply with all the same requirements as a distributor. If you make sales for resale, you must obtain a valid resale certificate.
Sales and use tax permit registration are available online. Beginning November 20, 2017, you can register for all the proper tax permits for your cannabis business on our website at www.cdtfa.ca.gov (click the Register link, and follow the prompt). When registering your business activity, make sure to select box number 3, Cannabis business activities.
More information about the permits necessary to collect these new taxes is available in this special notice and in theTax Guide for Cannabis Businesses. If you have additional questions, you may call our
A complete copy of the Formal Paper on Sales Tax for Cannabis and Regulation 3700 can be found here. 
Background
In 2015, the Legislature enacted the Medical Marijuana Regulation and Safety Act (MMRSA), a package of legislation that established a comprehensive licensing and regulatory framework for the cultivation, manufacturing, transportation, distribution, and sale of medical marijuana. The MMRSA consists of three bills: SB 643 (Ch. 719, McGuire), AB 243 (Ch. 688, Wood), and AB 266 (Ch. 689, Bonta).
Among its provisions, the MMRSA established the Bureau of Medical Marijuana Regulation2 2 (Bureau) within the Department of Consumer Affairs to oversee and enforce the state's medical marijuana regulations, in collaboration with the California Department of Public Health (CDPH) and the California Department of Food and Agriculture (CDFA).
On November 8, 2016, California voters approved Proposition 64 which established the Control, Regulate and Tax Adult Use of Marijuana Act (the Adult Use of Marijuana Act) (AUMA). Among other things, AUMA added Division 10 (commencing with Section 26000) to the Business and Professions Code (BPC), Marijuana Regulation and Safety (MRS), which establishes nonmedical marijuana regulatory and licensing provisions, and added Part 14.5, Marijuana Tax, to Division 2 of the Revenue and Taxation Code (RTC) (commencing with RTC section 34010).
In 2017, SB 94 repealed the MCRSA, included certain provisions from MCRSA into MRS, now known as the Medicinal and Adult-Use Cannabis Regulation and Safety Act (MAUCRSA), and made further amendments to AUMA. Concerning taxes, SB 94, section 162, amended Part 14.5 to ease and streamline cannabis tax collection and remittance to the Department. As relevant here, SB 94: (1) changes the law throughout to be the Cannabis Tax Law instead of Marijuana Tax Law; (2) revises the cannabis excise tax to be imposed upon purchasers at a rate of 15 percent of the average market price, instead of retail selling price, to be collected by a distributor from a cannabis retailer; (3) requires a distributor or a manufacturer to collect the cultivation tax from a cultivator, and a manufacturer to remit any cultivation tax collected from a cultivator to a distributor, for distributor remittance of those taxes to the Department; and (4) makes other corrections and other conforming changes.
The CTL was further amended by AB 133 in 2017 to, in part: remove the requirement that a cannabis retailer display the cannabis excise tax separately from the price of cannabis and cannabis products when sold to consumers; remove the requirement that a cannabis retailer state on the purchase invoice that the cannabis cultivation tax is included in the total amount of the invoice; and authorize the Department to prescribe other means to display the cannabis excise tax on an invoice, receipt, or other document from a cannabis retailer given to the purchaser. AB 133 also defines manufacturer and authorizes the Department to relieve a person of the penalty for failure to pay the cannabis cultivation and excise tax if the Department finds that the person's failure to make a timely payment is due to reasonable cause and circumstances beyond the person's control, and occurred notwithstanding the exercise of ordinary care and the absence of willful neglect
For reference, the staff has included the text of the underlying statutes (RTC sections 34010, 34011, 34012, and 34013) which are the basis for the proposed regulation (Exhibit 3).